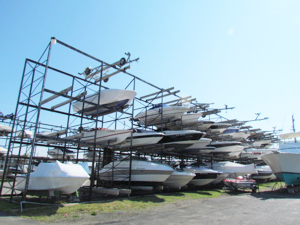 Rack Storage
Navesink Marina's boat owners can choose to keep their boat in rack storage all year or just for the Summer season. Rack storage is for boats with a maximum length beam of 8 feet 6 inches, and weighing up to 9,000 pounds. Rack Storage includes one daily launch and haul during the Summer season.
Rack customers, please be sure to call ahead and your boat will be in the water waiting for you!
Rack Storage Rates 
(Rates are subject to change)
Yearly Rack Storage: $150.00 Per Boat Foot
Yearly Rack Storage (Pd. Qtrly.): $165.00 Per Boat Foot
Summer Only (April 15 thru October 14): $122.00 Per Boat Foot
For rack availability please call us at (732) 842-3700 or e-mail us at office@navesinkmarina.com.